Heating and Plumbing
Purging - a word of caution

"...seems such a simple task. Fill the gas main up with gas again. Even needs doing if the system has been isolated and the pressure drops to atmospheric.... seems somewhat unneccessary some might think.... having witnessed first hand what happens after it flashes back, I can tell you IT IS. It can take the back out of a boiler, no problem ..."
Commercial Gas
I am able to repair, install and maintain most commercial gas installations.
I am able to run new gas mains, search out gas leaks, fit new appliances etc. I have state of the art leak detection equipment. I can run copper, screwed steel, trac (flexible) and plastic (UNDERGROUND!) gas pipework. This includes electrofusion welding. I am not a classifier, so no leaks on service mains please!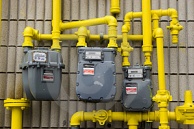 In all aspects of gas I am competent and experienced. Natural gas and LPG, low and medium pressure systems.
I am not a coded welder however, and max 1m3 purge capacity.
Examples of gas work you might want doing
Commercial gas tips
Steel pipe
Any pipe over 2" has to be welded now - even extensions... be aware.
Purge points
Specify plenty of purge points or you will regret it later, also consider installing stub branches at the likely locations of 'equipment you MAY purchase'.
Gas bills
As you are unlikely to be able to affect the efficiency of your system yourself, work on staff training in terms of keeping the heat INSIDE the building....
On that subject, if you are caught with the meter bypass open, your gas supplier will request the contents of your current account. No longer do they 'just close it'... Be warned.