Heating and Plumbing
Examples of Commercial Heating Jobs
Combat heaters
Big boilers
Overhead heaters
Warm air heaters
Radiant heaters
Swimming pools
Calorifiers
Niche heaters
Air handling units
Commercial Heating
There are a myriad of types of commercial heating systems.....
These range from 'scaled up' boilers, to overhead radiant tube emitters. Anyway, irrelevant of whether its wet heating, dry heating, direct fired, indirect fired, atmospheric burner, forced draught burner........ large or small, I'm the man for you. Most manufacturers charge from the time they leave depot... Niche heaters for example are based in Kent! I charge only from when I arrive on site.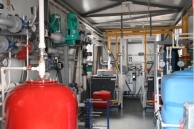 I understand that:
You need to keep costs to a minimum
You can't shut down in peak season
You need the problem solving FAST
You require minimum disruption
I offer a free site survey to assess your building with a written report, so that you can be ready for any 'issues'. Please call to discuss.
Important tips
Power cuts
Make certain you know how to reset your system in the event of a power cut.
Safety records
An HSE inspector will want to see this. Make sure you have an up to date certificate and keep your old certificates too.
Pilot lights
Learn how to relight your boilers' pilot light. This will save you a fortune.