Heating and Plumbing
What to do if you smell gas

"...Open doors and windows to ventilate the property, turn off gas at the meter (unless meter is in basement), do not operate switches on or off, leave property, call National Grid on 0800 111 999......"
Domestic Gas
I repair, install and maintain all domestic gas installations.
I run new gas mains, search out gas leaks, fit new cookers, hobs, boilers etc. I have state of the art leak detection equipment, I can run copper, screwed steel, (barrel), trac (flexible) and plastic (UNDERGROUND!) gas pipework.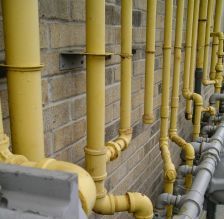 I am competent and experienced in all aspects of gas
I am familiar with natural gas, LPG, low and medium pressure systems
I run gas pipes for all types of appliances..... Cookers, fires, barbeques....
Examples of gas work you might want doing
Gas Tips
Cookers
There are some terrible examples appearing from abroad. A good cooker is worth every penny. Remember how often its used!
Gas pipes
If you have a new gas pipe installed, consider have it sized to cope with the next boiler you will have fitted - saves having the job done twice!
Gas Smells
If you THINK you smell gas, you probably do!
Gas Safety
I undertake gas safety inspections and certification.