Heating and Plumbing
Examples of boiler and heating system types
Combi boiler
System boiler
Open flued boiler
Floor standing boiler
Warm air
Electrical boiler
Condensing boiler
Conventional boiler
Gravity fed
Free installation quotations
Domestic Heating
Domestic heating boilers come in all shapes and sizes
A good engineer is able to deal with them all. Don't worry that I 'wont understand your system' because I will. I have worked on everything from electrical heatstores to underfloor heating in mansions. I repair, service and install all makes, types and styles. My preferred boiler is a Worcester Bosch, and I am also an approved installer for them. This does not mean I wont install, service or repair others. All domestic heating is welcome here!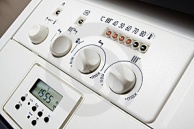 I can repair, service or install anything that goes into a house, flat or studio. Whether you got it from B&Q, or from eBay in china, its not a problem. I am also quite used to dealing with those problems that vanish as soon as i turn up, don't worry, if it did it yesterday, it will do it again, and we will find it now!
As always, I will take full details before I come. This is so I can come prepared, give you an idea of timescales, and advise you on what to do till i get there.
Heating Tips
Boiler Manual
Go online and download it, then keep it near the boiler.
System Pressure
Learn to tell when the pressure is low & refill your boiler system.
Pilot Light
Find out how to relight your pilot light.... (manual)
Reset button
Find out where it is, but if it goes off again, call a professional.
Cold Radiators
Cold at the top means they need bleeding. Cold at the bottom means they are full of sludge.
Large Leak?
Call me, Quick!