Heating and Plumbing
AGA

"....If you love your AGA but your lifestyle makes it hard to cook on, consider having an AGA companion fitted, this wonderful device is a module that fits on the side of the AGA, is fully enamelled and colour matched, blends in perfectly, and is a modern cooker - you can have electrical fan ovens, a gas hob, halogen hob, hotplate, or any combination you want..... Then cooking is easy! The AGA then can do what its best at, slow cooking, simmering and looking pretty........ "
AGA Rayburn
I am an AGA Rayburn service engineer - also a member of the Rayburn Guild. I repair, service and instal all AGA / Rayburn products and am able to undertake warranty repairs.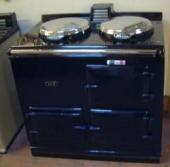 Unlike many engineers, I am qualified to work on ALL types, oil, natural gas, LPG and electric.
I carry a good selection of spares on board, but if i dont have it with me i can usualy get it next day.
Examples of work you might want doing
Dismantle appliance
Faultfind and repair
AGA Tips
AGA Running Costs
Heres a new word 'AGANOMICS' - it means, in short, that if you calculate what you get from your AGA, not just in terms of cooking, but heat, drying, kettle, toasting, etc etc, it comes out ok....... (google it to find out more)
Older Rayburns
The old oil fired Rayburns can be a handful.... Nouvelle's, OF22, old 200 series...... These can be tricky, do not use an inexperienced engineer
Vaporising Oil Burners
Get a vaporising burner serviced twice a year, get the correct grade of oil (low sulphur 28 sec oil), learn to know the warning sounds of a bad burn