Heating and Plumbing
Biomass pellet stores

..Biomass bunkers / hoppers are extremely dangerous - pellets let out carbon monoxide so it makes the atmosphere inside lethal - to enter a hopper you will need confined spaces training and all the correct protective equipment. There have been 15 deaths recorded so far.....
Commercial biomass boilers
I am able to repair, install and maintain most commercial biomass installations.
I am Woody biomass qualified for install/repair/service and a Talbots (Biomass boiler manufacturer) certified engineer.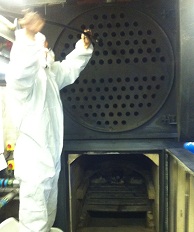 As I am able to work on control panels and associated commercial systems so I can give a full service - I not limited to the boiler itself.
I prefer to repair and service, as installs are better done by the manufacturer.
Examples of work you might want doing
Biomass tips
Fuel
Most problems come from poor fuel - you need a reputable supplier and you need to keep your fuel dry .
Buffer
The bigger the buffer the more efficient your boiler will be.
Costs
Bit controversial - at the moment if your burning virgin pellets with under 3% ash, you are most likely paying as much as gas......
Soot
Biomass soot / ash is carcinogenic - full PPE on clean outs is advised......