Heating and Plumbing
Standard Church problems
Excessively long time to get the church up to a reasonable temperature
Ancient pipewwork that no one wants to work on
Damp from ventilation and heating issues
Gas bills that would cripple a small country
Leaks that noone can find
Sections of the building never heat up, some roasting hot
General mental torture from the last 10 plumbers who all 'did a bit' then vanished
Church heating systems
I am a specialist in all things Church. I can give references from the biggest to the smallest, from small Welsh chapels to some of Londons largest churches. I wont name any, as its not polite, you wouldnt want Your name on the plumbers website either.
I have worked on all sorts of issues, from 100 year old warm air systems to the latest in hi tech underfloor heating. If you need me, the first thing to do is drop me a line and explain the problem, and I can pass you over some numbers so you can check me out. My work speaks for itself.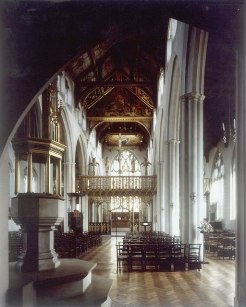 I understand you cant throw money at me, so the first visit is free, with a full report, but be warned, I wont be comming to give a cursory glance at the system, a good deal of effort will be expended in getting to the bottom of your issues, and my report will be comprehensive. My most loyal clients are churches and I am willing to go the extra mile to win your custom.
The picture here is the interior of one I look after. Brilliant picture, been photoshopped though!
New Installs
Scary topic this - if your having a new system put in, you may be wondering if your pockets are deep enough...... Dont worry unduly, there are ways to do it that dont mean crippling your finances
Tips
Dont Despair
If your boiler isnt actualy leaking water, it can usualy be saved
Air movement
Many places have double entry doors, an outer and an inner. DO NOT wedge the outer one open, the doors are so high it lets out vast amounts of heat as the congregation meander in.
Budgets
You have to have an engineer who can write clear reports so you can justify what works need doing to the Diosese.....
Planning
Knowing your scedule of events can cut your bills massively, heating an empty building is expensive. A decent programmer is cheap enough to install
Pumps
If youve had issues since youve had a new pump installed, try turning it down, old one pipe heating systems do not appreciate high speed flow