Heating and Plumbing
Usual Fail points
Small gas leaks
Poor flues on open flued appliances
Lack of servicing on older appliances
Signs of appliance distress - burns etc
Poorly clipped gas pipes
Smell of fumes
Landlords Inspections
I undertake both domestic and commercial gas safety inspections.
A gas safety inspection usualy takes 1- 1.5 hours, and are done at a fixed price, dependent on the number and type of appliances.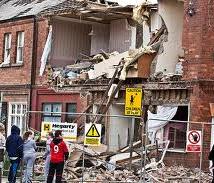 It is always worth having a professional do a safety inspection, not only will the appliances be checked properly, but also any easy rectifiable issues will get resolved at the same time. Feel free to call and discuss your system with me before I come if you have any concerns. This way I can be prepared for any issues.
Examples of things I would rectify in a safety check
Tips
Gas fires
A gas fire in a rental property can be a liability. Its an open flued appliance so potentialy risky at the best of times, Unless absolutely neccessary, consider removing it.
Warnings
There are three warning notices you may receive
1) NCS - this is a form of advizory - essentialy it means 'we dont do it this way any more consider revising'
2) At risk - not immediately dangerous, but likely to become so. Use at your own risk
3) Immediately dangerous - its dangerous now, it has to be isolated from the gas supply