Heating and Plumbing
Gledhill - The early days

"...The very original Gledhill units were octagonal, and many are still about. These were brilliant appliances, built to last. A lot went into the new Isle of dogs re development (London) and many tried to copy their success. A good appliance, well designed, my comment is 'fit for purpose'. The primary reason that Gledhill cornered the market was that the building regs limited the quantity of stored pressurised water, without the provision of a Metal pressure releif pipe - G3 regs - Gledhill cylinders are an indirect heat store - so no releif pipe needed.........."
Gledhill
There are a fair few versions of these - from pulsacoils to boilermates, 2000 range, A class and more
These were usualy installed in new developments, so if youve got one, theres a fair chance your in a flat and your neighbour has one too. Many engineers are petrified of these. Im not suprised. Early electric only versions were ok, later ones that didnt have immersion elements were 'challenging'. This was usualy due to a lack of inhibitor chemical on original instalation....... 25 a bottle for good stuff, two bottles per appliance.... 20-30 flats in a building.... you can see how sometimes it got forgotten.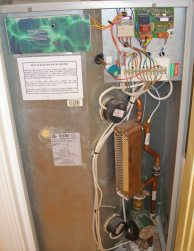 Im a service engineer for Gledhill, and if you have one, you need to keep my number
I carry a good selection of spares on board, if not i can usualy get it next day. You need experience to work on these appliances. They are complex.
Examples of Gledhill work you might want doing
Note - Gledhill went bust a little while ago, but have been bought out, (now called 'Gledhill Response') they have spares for all the old stuff, and have redesigned their systems - the new models look to be very, very well made, and due to their simplicity, very reliable. I am happy with what they have done.

This is a list of Gledhill appliances, its here so this page is easier to find from google!

GLEDHILL PULSACOIL 2000,GLEDHILL  PULSACOIL 111, GLEDHILL PULSACOIL A CLASS , GLEDHILL BOILERMATE 2000,GLEDHILL BOILERMATE 1,GLEDHILL BOILERMATE 11, GLEDHILL BOILERMATE 111 ,GLEDHILL BOILERMATE SP A CLASS, GLEDHILL BOILERMATE OV A CLASS, GLEDHILL SYSTEMATE 2000 , GLEDHILL SYSTEMATE 111,GLEDHILL ELECTRAMATE 2000, GLEDHILL ELECTRAMATE A CLASS.
Gledhill Tips
Header tank
Download the manual, read it, keep the header tank full (details in manual)
Low water level light
The manual explains this - its not on all models. find out what it is, so you know what th do when it comes on.
Relays
If you notice a smell of burning, its probably the relays that power on the immersions. There is a modification available to sort this - switch it off to be safe, but i have never heard this cause a fire.
Water goes hot/cold/hot/cold
time for new sensors....... or PCB...
Overheat light
There is an internal overheat reset button on some of these. Leave that for me to deal with - if that goes its an indication of a fault elsewhere.
Gledhill issues - Generaly
There are a million sites on google about Gledhill repairs, all aspects are covered and there are many modifications available..... I do not recomend any DIY'er have a go to repair their unit though, water+electricity=death