Heating and Cooling
What I do

Chillers

Reefers

Big Fridges

Cold rooms

Vehicle refrigeration

Air Handling units

And more...
Refrigeration
I am experienced and qualified in the installation, repair and servicing of
all manner of refrigeration and chiller equipment, if its a Glycol based chiller system, a cold room, a walk in freezer, or any other type of refrigeration system, I have the equipment, expertise and ability.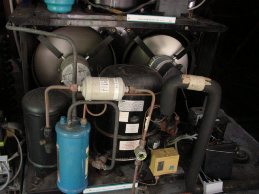 I carry the latest diagnostic kit for most manufacturers, and a good range of spares. If I havent got it with me I can usualy get it next day.
Examples of refrigeration work you might want doing
Refrigeration Tips
Legal
Be aware any engineer who recovers refrigerants must be qualified to do so and refrigerants are classed as hazardous wastes
R22
There are many drop in replacement refrigerants to replace R22, BUT you will have to have the compressor oil changed
Condensors
A clogged condensor is like a clogged car radiator, the motor will overheat, and damage will occur. A quick clean with a toothbrush will save a lot of cost
Leaks in systems
If you need constant top ups, consider having a tracer dye installed to find the leak