Heating and Plumbing
The contract Includes
Full gas safety inspection
Regular service visits
Scheduled repairs
Contracted response time
Discounted Emergency callout
The contract Doesnt Include
Service Contracts
My service contracts are exceptionaly good value for money. I offer
a fixed price annual contract paid quarterly, covering planned maintenance and non urgent repairs. As all premises are different, no two contracts are priced the same, hence a site survey is required.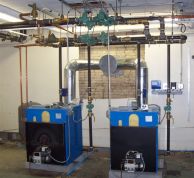 What does this actualy MEAN?
It means lower repair costs both long and short term. Things should break down less often. I will know your premises inside out, so i can fix any problem quickly. You also get absolute priority when you have an emergency, and im contracted to be there within a certain time.
I offer a free site survey to assess your building. Please call to discuss.
Examples of works
Servicing
If you have a huge number of appliances - eg commercial kitchens - I will spread the servicing over my visits - so a few appliances are done PROPERLY each time
Staff
I actively encourage the staff to interact with me, usualy the staff know the problems with the equipment far better than Management..... Cleaners are usualy especialy good at spotting problems before they become 'trouble'