Heating and Plumbing
Examples of Plumbing Jobs
Taps
Baths
Cylinder
Leaks
Showers
Pumps
Immersions
Outside tap
Radiators
Pipework
Domestic Plumbing
The description 'plumber' covers a good many disciplines
A good plumber is also a drain unblocker, gas man and bathroom fitter.... these are detailed elsewhere on the site. This page deals with plumbing only,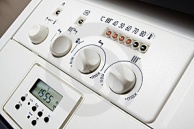 I can repair, service or install anything that goes into a house, flat or studio. Whether you got it from B&Q, or from eBay in china, its not a problem.
I am also quite used to dealing with those problems that vanish as soon as i turn up, dont worry, if it did it yesterday, it will do it again, and we will find it now!
As always, I will take full details before I come. This is so I can come prepared, give you an idea of timescales, and advise you on what to do till i get there.
Plumbing tips
Slow drains
Try running hot water down them for 15-20 min
Taps stiff
Dont force them, just turn them back and forward to free
Stop cock
Find it! make sure you know how to use it!
Immersion Element failed?
Try changing the fuse
Large Leak?
Call me, Quick!