Heating and Plumbing
Keston comments
C55 / C40 - Brilliant till it leaks from the heat exchanger gaskets, Then everything dies. Especialy fan.
Celcius 25 - good boiler, can have issues with ignition. Keston modified the PCB, but still can have issues
C55 / C40 - recently the PCB's have become tricky - Mexican made Im told.
Call to discuss
Keston Boilers
I undertake repair, servicing and installation of all Keston boilers.
I am fully experienced with all aspects of Keston boilers, from the common problems, to the not so common.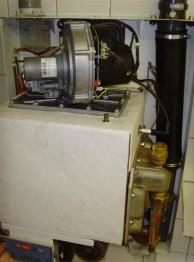 One of the great things about these boilers is how easy it is to get parts. All parts are available, even for very old models.
Most problems associated with this boiler are due to Installation defects - and quite often easy to sort
I could go on forever on this page, I know these boilers backwards, any query's call me, or read more here
Examples of jobs you might want doing
Make it work!
Keep it working!
Change it!
Keston tips
Chemicals
If you keep a good level of chemicals in the system your Keston will last well. I know it sounds silly, but Inhibitor is crucial, it stops the cast aluminium end plates on the heat exchanger corroding, then leaking
Fans
Unfortunately when the PCB on the fan goes you have to buy a whole new fan.... Ouch. consider getting a reconditioned unit - 1/4 of price
Modifications
There are some known failures on Keston boilers, a huge number of these have not been modified. A corrugated internal flue tube is one, an overfill sensor on the condensate trap is another...